Lidt om os og vores værdier
Vi er en lille kennel (stueopdræt) som får ca et kuld hvalpe om året. Vi opdrætter dansk/svensk gårdhunde med DKK stambog. Vi har gennemgået DKK's opdrætteruddannelse og følger til hver en tid DKK's etiske regler (link) og raceklubbens etiske anbefalinger (link).
I vores avl lægger vi vægt på at avle på stabile, robuste familiehunde med gode temperamenter. Og frem for alt sunde hunde.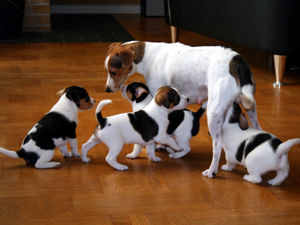 Alle vores hunde er patella testede (testede for løse knæ) og HD fotograferede.
Det er ikke et krav i Danmark at teste for HD, men vi vil helst avle udeukkende på HD testede hunde, da vi mener at det giver det sundeste resultat i længden.
Vi gør et stort arbejde for at anvende linier i vores avl, der er uden for "den store familie" og dermed holde nogle blodlinier fri.
Vores udvælgelse af avlshunde baserer sig på hunde af høj kvalitet, både sundhedsmæssigt, mentalt og exteriørt.
I er velkomne til at kontakte os, hvis I vil høre mere om vores avlsarbejde.
Hvordan vi holder hund og har hvalpe
Vi har ikke kennelbygninger og løbegårde. Alle hunde bor i huset hos os og går sammen i en fungerende flok. Det er meget vigtigt for os at flokken fungerer og at alle hundene kan enes sammen.
Socialiseringen i hvalpenes første 8 uger er yderst vigtig for os, og den faste ferie planlægges altid i hvalpeperioden.
De to første uger skal hvalpemor have ro og modtager ikke gæster. her skal hvalpemor have masser af tid til at passe og pleje sine hvalpe helt uforstyrret.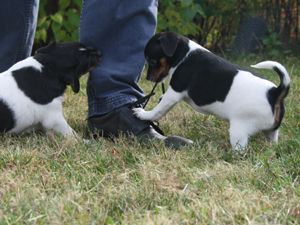 Fra hvalpene er ca to uger gamle bliver de præget på mennesker, især børn i forskellige aldre, så her inviterer vi gerne alle de børn vi kender på hvalpebesøg. Det er rigtig god socialisering. Hvalpene vænnes også til forskellige lyde, støvsuger, føntørrer, vaskemaskine og pludselige høje lyde.
Hvalpe "legepladsen" er indrettet med forskellige underlag og forhindringer og ting de kan gå ind i og lege med. Forskellige aktiviteter. Her i legepladsen lærer hvalpene også at bruge næsen til at søge efter godbidder.
De kommer ud at køre i bil og på små gå-ture i forskellige miljøer.
Det er vigtigt for os at hvalpene har den bedst mulige prægning og socialisering med i bagagen, når de flytter hjemmefra som 8-10 uger gamle hvalpe.